The Delhi Gangrape in Moving Bus - 16-Dec-2012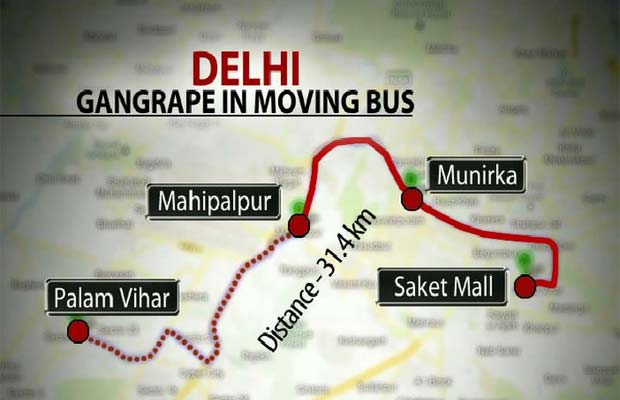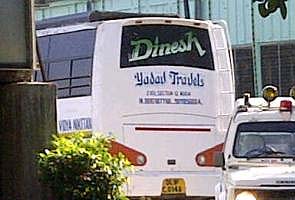 Please be updated that this article is a collection of news from multiple news websites like:
http://indiatoday.intoday.in/story/delhi-gangrape-women-security-shinde-sheila-dikshit-charges-on-accused/1/238466.html
http://www.hindustantimes.com/India-news/NewDelhi/Delhi-gangrape-a-very-upsetting-incident-PM/Article1-976587.aspx
http://indiatoday.intoday.in/story/delhi-bus-gangrape-high-court-status-report-neeraj-kumar-status-report/1/238501.html
http://ibnlive.in.com/news/delhi-gangrape-police-grill-main-accused-2-on-the-run-victim-critical/311124-3-244.html
http://www.ndtv.com/article/cheat-sheet/delhi-gang-rape-10-developments-in-police-investigations-307351
Date of Incident - 16-Dec-2012 Sunday
This is a very heinous act that has been done and I believe that death sentence or shot dead is no punishment for such sick minded people, these people should be allowed to live without their manliness, this is a shame and a bigger shame on the fact that inspite of everything Delhi tops the Rape rate and is also the rape capital of the city, read for yourself.
I wonder if the girl will survive and then be able to live.
Medical bulletin of the victim:
19-12-2012
Amidst the arrests and the investigation by the police in the shocking case, the health of the victim has deteriorated again. While her condition got better on Tuesday morning, she was again put on ventilator in the evening, according to the medical update from the Safdarjung hospital.
The Safdarjung hospital has said that the condition of the victim has deteriorated. According to the hospital, while the condition of the victim got better on Tuesday morning, but had to be put on ventilator again in the evening.
The hospital further said, "This is a severe and a very unusual case which the hospital has never seen in terms of the injuries...she has received severe genital and intestinal injuries."
The hospital also did not rule out septicemia and gangrene, which is quite likely in cases like these.
(With Additional Inputs from PTI)
18-Dec-2012
The condition of the 23-year-old para-medical student, who was gang-raped by a group of men in a moving bus in Delhi, deteriorated this evening after which she has been put on "full-time ventilatory support", doctors attending on her said.
The girl's condition in the morning was "better than yesterday's" but as the day progressed, her health condition kept fluctuating, they said.
The victim, who was admitted to Safdarjung Hospital on Sunday after she was brutally assaulted and raped , continues to be in the Intensive Care Unit (ICU).
"Her condition is critical and deteriorating. In the morning, she was better but, in the evening, the situation fluctuated and her health deteriorated," Dr B D Athani, Medical Superintendent of the hospital, said.
He told PTI that the victim now needs "full-time ventilatory support" and she is under "close observation" of the doctors.
Earlier, Athani had said she will be kept under "close observation" by the doctors for the next 48 to 72 hours because of the nature of injuries inflicted on her.
Athani said doctors were reviewing her case periodically and ensuring she gets best of the treatment. "We still cannot call her out of danger because of the nature of injuries," he said.
Doctors said the paramedical student from Dehradun, who was here for her internship, has suffered severe injuries on her head and in the face as he was brutally attacked by the men with an iron rod.
Day 2, another Headlines Today reporter gets harassed in Delhi
Headlines Today | December 19, 2012
Despite massive outrage over security of women in Delhi, two men eve-teased Headlines Today correspondent Preeti Choudhry near Lajpat Nagar Metro station. Day 1: Eve-teasers accost Headlines Today reporter on the job
Eve-teasers accost Headlines Today reporter working on Delhi gangrape story
Aditi Ananthanarayanan | December 18, 2012
Three men in a moving car (right) passed lewd comments at Headlines Today correspondent Anjana Kashyap near the AIIMS flyover in the heart of the city. Highlights
The shocking news of the gangrape and brutal assault of a medical student on a moving bus in South Delhi has left the nation outraged. The victim was gang-raped, brutally beaten, stripped and thrown out of the bus near Mahipalpur flyover along with her male friend.
Highlights:
- Delhi gangrape case: NHRC issues notice to Home Secretary and Delhi police chief.
- Culprits were arrested in shortest possible time, says DCP Dharmendra Kumar.
- Two accused hiding in Rajasthan, Bihar and Uttar Pradesh, Delhi Police tells court.
- Ram Singh, driver of bus in which the girl was gangraped, produced in court. He refuses to undergo identification test.
- Prime accused in gangrape case Ram Singh sent to 5 days' police custody.
- Not possible to check each and every vehicle on Delhi roads, says Delhi Police Commissioner Neeraj Kumar
- Attempt to murder to be invoked against accused in rape case: Delhi Police
Home Minister Sushilkumar Shinde speaks on Delhi gangrape incident. He says:
- Home Minister Sushilkumar Shinde assures more patrolling, PCR vans.
- Shinde assures day to day hearing on the Delhi gangrape case.
Delhi Police Commissioner Neeraj Kumar addresses media on Delhi gangrape case.
- Bus was washed to remove the evidence.
- Couple boarded the bus thinking it was a public bus.
- Two accused in the case still absconding.
- Will move this case to fast track courts for quick justice, says Delhi Police chief.
- Bus driver and his friends were on the joyride, says Kumar.
- Four persons have been arrested in Delhi gangrape case, says Delhi Police Commissioner Neeraj Kumar.
- Questions are being raised over the law and order situation in Delhi and people are demanding ways to stop the crime graph.
- Police must step up patrolling in the city, demands BJP leader Smriti Irani.
- CCTV cameras must be installed in DTC buses, says BJP leader Smriti Irani.
- BJP leader Ram Jethmalani demands resignation of Delhi Police chief.
- Jaya Bachchan breaks down in Rajya Sabha.
- Jaya Bachchan threatens to protest outside Parliament if not allowed inside the House.
- It is a shame. Where is the protection of women? asks Jaya Bachchan.
- Samajwadi Party MP Jaya Bachchan slams Rajya Sabha chairperson, says Parliament has no time for women.
- MPs demand stringent laws to curb such heinous crime against women.
Govt must take stern action, rapists should be hanged, said Sushma Swaraj in Lok Sabha.
- Leader of Opposition in the Lok Sabha Sushma Swaraj raise the gangrape case in Parliament.
- JNU students shout slogans outside Vasant Vihar Police station and block traffic on the Outer Ring Road in Delhi.
- Jawaharlal Nehru University (JNU) students hold protest in Delhi and demand justice for the gangrape victim.
As the 23-year-old medical student who was gangraped in Delhi on Sunday evening battles for life, Home Minister Sushil Kumar Shinde met top Delhi Police officials on Wednesday to discuss ways to prevent such crimes from occurring again at the meeting.
Speaking in the Rajya Sabha, Shinde said that it has been decided that tinted glasses and curtains will be removed from buses. "In the review meeting with the police officers and transport officers, it was decided that there shall be immediate crackdown on all vehicles with tinted glasses and impounded. All public transport vehicles will have keep the lights inside the vehicle on while on roads," Shinde said. On Tuesday, at a press conference, the Delhi Police Commissioner said that the curtains of the bus hid the crime.
The driver's number and licence will be displayed on the bus. Shinde also said that all buses will have GPS installed in them for the police to track them. "The Delhi Police shall undertake verification of drivers, staff of buses and if buses are operated by unverified staff they will face action," Shinde added.
Shinde said that it will be inquired as to why no PCR van stooped the bus. "PCRs are in the corner and every hour they carry out a patrol. It will be inquired why the bus wasn't stopped," Shinde said.
Meanwhile, BJP leader Sushma Swaraj once again called for a death sentence for the culprits in the case within 30 days. "This case should be held in a fast-track court and come to the decision to hang the guilty in 30 days," she said.
Delhi Chief Minister Sheila Dikshit has called meeting of all women groups in Delhi at 6 pm on Wednesday. "I want a consensus among all political parties on whether the Delhi Police and law and order should be under the Delhi government," Dikshit told CNN-IBN.
This comes hours after Congress President Sonia Gandhi sent letters to Shinde and Dikshit seeking immediate action. Sonia Gandhi also visited the victim's family at Safdarjung Hospital late on Tuesday night and inquired about the victim's health.
The 23-year-old victim continues to fight for her life. Doctors treating her say some of her vital organs have been permenantly damaged and she's suffering from a blood infection. She has been on ventilator support now for over 60 hours now. A medical bulletin is expected on Wednesday evening.
Four people, including the prime accused, have been arrested. Bus driver Ram Singh has been sent to five-day custody. Police say all six accused will now be charged with attempt to murder. Two accused, though, are still absconding.
Speaking to CNN-IBN, activists and former police officers voiced out their anger over the case and gave suggestions like increasing police presence immediately, creating a citizen volunteer force and ensuring speedier justice in rape cases.
"Increase police presence overnight, which means from tomorrow re-allocate over 600 PCR vans at vulnerable points at night and those PCR vans must be supported by citizen bodies and civil defence and a woman policeman. We created this kind of a citizen volunteer force, why have those good practices gone," former IPS officer and activist Kiran Bedi said.
The atmosphere at the Ravidas Camp in RK Puram Sector 3 was sombre on Tuesday as three of the four men arrested for raping a 23-year-old girl in a moving bus were picked up from the slum on Monday evening. Blaming Ram Singh and his brother Mukesh for maligning the name of the colony,
We will seek death penalty for rapists: Top cop
Out on a joyride, the gang robbed a man before brutalising the woman
Hang them! Demands India
A nightmare on the streets
their estranged sister-in-law said that they were the black sheep of the family.
"We were not on speaking terms with them. They used to live in a different house. It was very common to hear stories about them getting into fights and stealing from people. No one was very happy with their behaviour and their parents went back to their village two months back because they were fed up of their behaviour," she said.
Hari Ram Sharma, whose 20-year-old son Vinay Sharma was also picked up by the police from his house, was not convinced that his son could do something so heinous. He said he was not friends with either Ram Singh or Mukesh.
"He had told us that he was just going out for a stroll. His friend Kalu had come to call him at around 8 pm on Sunday evening. He reached home a little after 10 pm, ate food and went to sleep," Sharma said.
Vinay, who worked as an assistant instructor in a gym near Siri Fort, scanned news channels the entire day on Monday.
"The gym where he works is closed on Mondays and Vinay was at home all day on Monday. He watched the news throughout the day. He did not get into fights with people and was just a kid. I don't think he was involved in the crime but if it is proved that he was I would suggest that the courts give him a fitting punishment," Sharma said.
According to Vinay's mother, when the police came to take him away he asked her to trust him.
"Maine aisa kuch nahi kia jis se aap ko sharminda hona pade (I have not done anything to shame you)," he said.
The fourth accused, 18-year-old Pawan Gupta, alias Kalu, also lives in the same colony with his parents and two siblings.
"My son is just a kid. I am sure he can't do something like this," said Indira Devi, Kalu's mother who along with her husband runs a small fruit shop in RK Puram sector 1.
The neighbours, meanwhile, say that they are fed up of coming under the scanner because of Ram Singh and Mukesh.
Update:21-12-2012
http://ibnlive.in.com/news/delhi-gangrape-victim-stable-conscious-but-still-on-ventilator-protests-continue/311588-3-244.html
New Delhi: The 23-year-old physiotherapist, victim of a brutal gangrape and assault, is stable and conscious, the doctors attending to her said on Thursday. However, she is not completely out of danger yet, they added. The young woman continues to be on ventilator support and a serious infection in her abdomen and the amount of blood loss are among the primary concerns of the doctors.
Her platelet count too has been diminishing, the doctors said. However, they lauded her spirit saying she was a fighter and continued to communicate through gestures and written notes with her mother and the doctors.
Meanwhile, the 23-year-old's male friend identified Mukesh, one of the accused, during the test identification parade at Tihar jail on Thursday. The police are also questioning the family members of the last of the accused who is still absconding. They are carrying out raids in Haryana and Bihar.
Update: 21-12-12
Forced to Eat Shit:
http://www.firstpost.com/india/delhi-rape-case-tihar-inmates-thrash-accused-force-him-to-eat-excreta-565004.html
As the young paramedical student battles for life bravely four days after the brutal gangrape, and the nation is outraged over the heinous crime, the inmates of
Tihar jail
, where the rape accused have been lodged, are also giving the main accused a hard time.
India Today
cited a source that revealed that the main accused in the Delhi gangrape case was not only beaten up by the jail inmates but was also forced to consume human excreta and urine. Post the attack on rapecase's main accused, Mukesh, the jail authorities are planning to shift him to a separate cell.
Today morning, the girl's male friend, an engineer in a software company who was in the bus, had identified Mukesh, one of the six accused, during TIP (Test Identification Parade) at
Tihar jail
, a senior police official said.
Eleven people were paraded before him during TIP which started at 3:05 PM and lasted for an hour. "The procedures ended by 4 PM," the official said. Of the six accused, four have been arrested, one detained and another remains at large.