Karwa Chauth 2015: Make Your Marriage Immortal
Karwa Chauth 2015: Make Your Marriage Immortal
I never wanted the stars,
I like them right where they are,,,
All I wanted was You Aas!
Happy Karwa Chauth
Karwa Chauth in 2015 is on October 30 (Today) The day to bless your marriage with the life of Moon, Karva Chauth is not just about fasting. It is the day of cherishing the bond of love and saying thanks to your beloved for all those beautiful moments in a unique way. Let's read more about this beautiful day...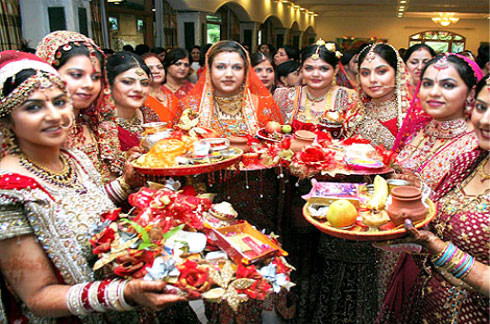 Karwa Chauth is one day festival, which is celebrated mainly in North India. It falls on the fourth day of the Krishna Paksha (dark fortnight) of the month Kartik or before nine days of Diwali.
On Karva Chauth, full day fasting will be observed by married or unmarried ladies. North Indian married or unmarried women observe the fast of Karwa Chauth for the well being and long life of their husbands, or for their fiances. The Karva Chauth fast starts after sunrise and extend till the moonrise. Full Moon is seen on Karva Chauth, or on the fourth night of the Krishna Paksha, of the month Kartik.
Karva and Chauth are Hindi words that refer to "pot" and "fourth" (as it falls on the fourth day of the dark fortnight of month Kartik), respectively. Different mud pots are taken by the ladies, each refers to the name of their husbands. Each woman honor her pot and use it to deliver water to the Moon, after moonrise. There are some other facts also, that should be known before celebrating Karwa Chauth in 2015. So, let's discuss these facts to celebrate Karva Chauth in 2015 in a more delightful manner.
Significance of Karva Chauth
Let's discuss the significance of Karwa Chauth festival.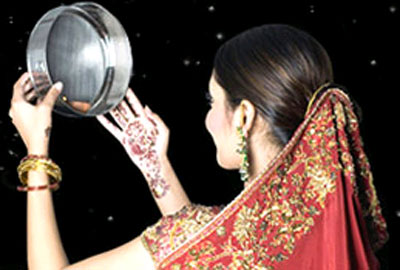 Karva Chauth is an important fast for the ladies of North India. They strongly believe that, if the fast is observed with full faith and devotion, it will help in the welfare of their husbands.
Now-a-days, in modern society, it is considered as a romantic festival, in which women observe fast for their husbands, and husbands give them different gifts in return. It is also a major time of family get-together. During the moonrise, all family members come together and perform the rituals, followed by dinner. It provides an opportunity for ladies, to get closer to their in-laws and even more closer to their husbands. Celebrate Karva Chauth in 2015 with full devotion to take the blessings for your husband's long life.
Karva Chauth 2015: Rituals and Traditions
Now, let's take a look on the rituals and traditions followed by ladies before celebrating Karva Chauth in 2015; so, that we can celebrate Karwa Chauth in 2015 by keeping in mind these traditions.
Days before the festival of Karva Chauth, ladies start preparing for this special festival. They shop for the things, which are considered important for the married women such as cosmetics, bangles, jewelery and new clothes. There is also a tradition of applying henna or Mehndi tattoo on hands. It is believed that it brings good luck to the life of couple.
Another very important tradition related to Karwa Chauth is Sargi. Sargi includes the food items presented by the in-laws to their daughter-in-law. It is consumed by the ladies who observe fast before sunrise. Women awake before sunrise to have some food as Sargi. In Punjab, the Sargi must include Fenia (traditional food, cooked in milk), Matthi, dry fruits and fruits. It is believed that Sargi helps the women to observe fast, the whole day, without any weakness.
There is also a tradition of wearing good clothes by all the married ladies, as it is a mark of celebration on Karwa Chauth.
Celebrations Of Karwa Chauth 2015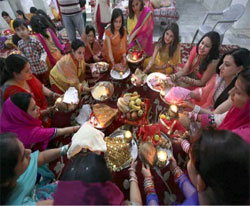 Before celebrating Karwa Chauth in 2015, let's first discuss about how to celebrate Karwa Chauth festival?
Women who observe fast of Karva Chauth awake before sunrise for consuming Sargi or other food items. Their fast starts after sunrise. During the daytime, they decorate their hands with Henna or Mehndi, wear bangles, Tika, Bindi and other cosmetics, and get ready for the rituals. The way of performing rituals is different from place to place or communities.
Karwa Chauth Celebrations In Punjab
In Punjab, all the ladies gather at a central place like at someone's home, to perform the rituals with their decorated Puja Thalis (plates). They all sit in a circular order and an elderly lady narrates the Karva Chauth story. They sing the Karva Chauth traditional songs together and rotate their Puja Thalis throughout the circle. These rotations are called Feris. Seven Feris of Puja Thalis are carried out by ladies while performing the ritual of Karva Chauth. Then, they wait for the moonrise and do other preparations for the festival. Women from Punjab will follow the same tradition for celebrating Karwa Chauth in 2015.
Celebrations In Uttar Pradesh, Haryana & Rajasthan
In the area of Uttar Pradesh, Haryana and Rajasthan, all the ladies of the family come together to perform the rituals of Karwa Chauth. They sit together and an elderly lady narrates the story of Veeravati or the Karwa Chauth Katha. This story narration takes place in front of the idol of Maa Parvati, and the Karvas of Karva Chauth. After the completion of story or Katha, the ladies take blessings from their mother-in-law by touching her feet. Then, they all wait for the moonrise for further rituals.
When the Moon arises, all the women come together to worship Moon. They use a sieve to view the Moon indirectly with a lighten lamp. Then they turn around, and view their husbands in the same way by using the sieve. They offer prayers to Moon for the long life and well being of their husbands. Husbands offer water and some sweet as the blessed food to their wives, and the fast is now broken. The wives can now take the complete meal. This is how the couples celebrate Karwa Chauth.
Legends Of Karva Chauth
Let's now discuss the legends of Karva Chauth before celebrating it in 2015, so that we can understand the true reason for celebrating Karwa Chauth in 2015.
Veeravati was a Queen and was the only sister of seven brothers. Her brothers were very protective toward her. When she observed her first fast of Karva Chauth, at her parent's house, she was eagerly waiting for the moonrise, as she was not able to control her thirst and hunger. Her brothers couldn't see her in this condition. They tried a trick of mirroring bright light behind the Pipal tree. They told her that she can consume the meal as the Moon has risen. Veeravati was convinced by their trick and consumed the meal. The moment she ate, the news arrived that her husband was dead. She started crying and asked Maa Parvati that why it happened. Then, Maa Parvati came and told her about the trick of her brothers. Maa Parvati advised her to observe the fast again with full faith and devotion to get her husband back into her life. Veeravati admit her mistake and promised to observe the fast again and every year with full faith and devotion for the well being and long life of her husband.
Once Arjun went to Nilgiris for penance. All the Pandavas and Draupadi were very worried about the well being of Arjun. Draupadi approached to Lord Krishna for help. She asked Lord Krishna to protect Arjun from any danger or hazard. Lord Krishna told her that the love and faith of a married woman has the power to save her husband from any risk or danger of life. He advised her to observe the fast of Karwa Chauth with dedication, it will help Arjun to get out of all dangers successfully.
Karva was a loving wife, who was deeply in love with her husband. Her deep love toward her husband provided her some spiritual power. Once, her husband was caught by a crocodile in a pond. With her spiritual powers, Karva bound the crocodile with a cotton yarn, and asked Yama to send him to hell. Yama refused to do so. Karva threatened Yama that she will curse and destroy him. Being threatened from the curse of a loyal wife, he agreed and sent crocodile to hell. He also blessed Karva's husband with long life. This story also tells about the power of love of a devotional wife as well as Karva Chauth. So, don't miss that chance and observe fast of Karva Chauth in 2015.
Story Of Satyavan & Savitri
Savitri was a devoted wife, who was deeply in love with her husband. One day, her husband died and his soul was taken away by the lord of death Yama, she stopped drinking and eating anything, and prayed Yama to return her husband back to life. Yama told her that she can ask for any other boon, except the life of her husband. Savitri asked for kids from her husband. Yama agreed, but being a devoted wife, Savitri never let any other man to be her husband. Yama left with no other choice, but he had to restore Savitri's husband to life.
These legends encourage the tradition of Karva Chauth. Let's now talk about the special delicacies cooked on this day to make your Karwa Chauth in 2015 more happening.
Today is Karva Chauth every married women have fast today for their husband. Why married women have fast on Karwa Chauth? In Hindu Religion the fast of Karwa Chauth have do for the safe and long life of Husband. Women don't eat and drink any thing whole day after see the moon in night they take food and water. In the evening they do worship of Vidha Mata. The good timing of the poojan of Vidhi Mata is after 5:00 pm. All the ladies sit together and do this pooja.
After that Ladies started to wait of Chand (Moon). On Karwa chauth movie rise after 8:00 or 8:30 pm. All the Ladies give Water to Moon and see the face of their husband within Channi. Now ladies drink water first then take food. In different families females eat different kind of recipes on this day.